California Oak Galls

Wasps in the family Cynipidae are gall inducers on plants, or inquilines of gall inducers (living inside the galls made by other cynipids). The majority of species occur on oak trees (Quercus sp.). Galls range in size from 1 mm to 6 cm or more and come in many shapes and colors, as depicted on this page. Different cynipid species occur on specific oak species, and the galls themselves occur on specific locations on the trees (leaves, stems, buds, roots, etc.) depending on the species and which generation it is. Some species have two generations per year, a sexual and an asexual (female only) generation, each producing completely different types of galls on different parts of the host. The adult wasps are generally around 1-4mm in size. The wasps support a community of other insects that feed on them, their parasites, and their galls.

Regarding the generic names I'm using on this web site, please read this page.

See also the undescribed or unknown oak gall page.
White oak group: Quercus berberidifolia (inland scrub oak), Q. cornelius-mulleri (Muller's oak; desert scrub oak), Q. douglasii (blue oak), Q. dumosa (Nuttall's scrub oak) Q. durata (leather oak), Q. engelmannii (Engelmann oak), Q. garryana (Oregon oak), Q. john-tuckeri (Tucker's oak), Q. lobata (valley oak):

Andricus albobalani

Andricus atrimentus
Asexual, fall generation

Andricus atrimentus
Bisexual, spring generation

Andricus bakkeri

Andricus brunneus

Andricus confertus

Andricus coortus
(syn: Callirhytis coortus)

Andricus chrysolepidicola

Andricus crystallinus

Andricus discularis

Andricus fullawayi

Andricus gigas

Andricus kingi

Andricus opertus

Andricus parmula

Andricus pattersonae

Andricus pedicellatus

Andricus quercuscalifornicus

Andricus stellaris

Andricus stellulus

Andricus wiltzae

Antron douglasii
Asexual, fall generation
(syn: Cynips douglasii)

Antron douglasii
Bisexual, spring generation
(syn: Cynips douglasii)

Antron quercusechinus
(syn: Cynips quercusechinus)

Besbicus conspicuus
(syn: Cynips conspicuus)

Besbicus heldae
(syn: Cynips heldae)

Besbicus maculosus
(syn: Cynips maculosus)

Besbicus mirabilis
(syn: Cynips mirabilis)

Besbicus multipunctatus
(syn: Cynips multipunctata)

Burnettweldia conalis

Burnettweldia corallina

Burnettweldia plumbella

Burnettweldia washingtonensis

Disholcaspis canescens

Disholcaspis eldoradensis

Disholcaspis mamillana

Disholcaspis mellifica

Disholcaspis prehensa

Disholcaspis simulata

Neuroterus fragilis

Neuroterus saltatorius
Asexual, fall generation

Neuroterus saltatorius
Bisexual, spring generation

Neuroterus washingtonensis

Phylloteras cupella

Sphaeroteras trimaculosum
(syn: Atrusca trimaculosa)

Trichoteras tubifaciens
(syn: Andricus tubifaciens)

Xanthoteras clavuloides
(syn: Atrusca clavuloides)

Xanthoteras teres
(syn: Trigonapsis teres)
Red (black) oak group: Quercus agrifolia (coast live oak), Q. kelloggii (California black oak), Q. wislizeni (interior live oak):

Callirhytis apicalis
(syn: Andricus apicalis)

Callirhytis carmelensis
(syn: Andricus carmelensis)

Callirhytis congregata
(syn: Andricus congregata)

Callirhytis eldoradensis

Callirhytis perdens
(syn: Andricus perdens)

Callirhytis perfoveata
(syn: Andricus perfoveata)

Callirhytis quercusagrifoliae
Asexual, summer generation
(syn: Andricus quercusagrifoliae)

Callirhytis quercuspomiformis
Asexual, summer generation
(syn: Amphibolips quercuspomiformis)

Callirhytis quercuspomiformis
Bisexual, spring generation
(syn: Amphibolips quercuspomiformis)

Callirhytis quercussuttoni
(syn: Andricus quercussuttoni)

Callirhytis serricornis
Asexual, summer generation
(syn: Andricus serricornis)

Callirhytis serricornis
Sexual, spring generation
(syn: Andricus serricornis)

Dryocosmus dubiosus
Asexual, fall generation

Dryocosmus dubiosus
Bisexual, spring generation

Dryocosmus minusculus

Melikaiella flora
Asexual, summer generation

Melikaiella flora
Bisexual, spring generation
Intermediate or golden oak group: Quercus chrysolepis (canyon live oak), Q. palmeri (Palmer's oak), Q. vacciniifolia (huckleberry oak):

Andricus chrysobalani

Andricus projectus

Disholandricus chrysolepidis

Disholandricus lasius

Disholandricus reniformis

Disholandricus truckeensis

Dryocosmus asymmetricus

Grahamstoneia humboldti

Heteroecus dasydactyli

Heteroecus flavens

Heteroecus lyoni

Heteroecus melanoderma

Heteroecus malus

Heteroecus pacificus
Asexual, fall generation

Heteroecus pacificus
Bisexual, spring generation

Heteroecus sanctaeclarae

Heteroecus sp.

Paracraspis guadaloupensis
(syn: Acraspis guadaloupensis)

Paracraspis insolens
(syn: Acraspis insolens)

Paracraspis patelloides
(syn: Acraspis patelloides)

Protobalandricus spectabilis

Trichoteras burnetti
(syn: Andricus burnetti)

Trichoteras coquilletti
(syn: Andricus coquilletti)

Trichoteras frondeum
(syn: Andricus frondeum)

Trichoteras perfulvum

Trichoteras vacciniifoliae
(syn: Andricus vacciniifoliae)
Non-native oaks growing in California: Quercus virginiana (southern live oak)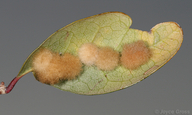 Andricus quercuslanigera
This gall has been seen on Q. virginiana in Manteca, Stockton, Brentwood, and Sacramento. It has also been seen in Los Angeles County.
For more information about California galls, see Ron Russo's Plant Galls of the Western United States (2021), an update to and expansion of Ron's 2006 Field Guide to Plant Galls of California and Other Western States.