[Home] [Some Favorites] [Image Links] [Search Images] [Licensing] [Bio] [Acknowledgements] [Contact]
| | |
| --- | --- |
| | California Non-Oak Galls |
Acacia greggii (catclaw)
Alnus sp. (alder)
Arctostaphylos sp. (manzanita)
Artemisia tridentata (sagebrush)

Contarinia sp.
Catclaw Leaflet Gall Midge

Phytoptus laevis
Alder Bead Gall Mite

Tamalia coweni
Manzanita Leaf Gall Aphid

Rhopalomyia pomum
Sponge Gall Midge
Atriplex sp. (saltbush)

Asphondylia floccosa
Woolly Stem Gall Midge

Asphondylia sp.
Pom-Pom Bud Gall Midge
Baccharis pilularis (coyote brush)

Gnorimoschema baccharisella
Baccharis Stem Gall Moth

Puccinia evadens
Baccharis Rust Gall Fungus

Rhopalomyia baccharis
Coyote Brush Stem Gall Midge

Rhopalomyia californica
Coyote Brush Bud Gall Midge
Ceanothus sp. (ceanothus)

Asphondylia ceanothi
Ceanothus Bud Gall Midge

Asphondylia sp.
Vein Gall Midge
Chrysolepis chrysophylla (giant chinquapin) and Chrysolepis sempervirens (bush chinquapin)

Dryocosmus castanopsidis
Chinquapin Flower Gall Wasp

Dryocosmus sp.

Ericameria sp. (rabbitbrush)
Garrya sp. (silk tassel)

Rhopalomyia utahensis
Cotton Gall Midge

Rhopalomyia sp.
Spiny Cone Gall Midge

Asphondylia garryae
Silk Tassel Gall Midge
Juniperus californica (California juniper)

Walshomyia juniperina
Juniper Urn Gall Midge

Walshomyia sp.
Juniper Gall Midge
Larrea tridentata (creosote bush)

Asphondylia apicata
Creosote Bush Gall Midge

Asphondylia auripila
Creosote Stem Gall Midge

Asphondylia digitata
Creosote Antler Gall Midge

Asphondylia discalis
Creosote Bush Paddle Gall Midge

Asphondylia fabalis
Creosote Bush Gall Midge

Asphondylia florea
Creosote Bush Flower Gall Midge

Asphondylia foliosa
Leafy Bud Gall Midge

Asphondylia pilosa
Leaf Club Gall Midge

Asphondylia resinosa
Creosote Resin Gall Midge

Asphondylia rosetta
Creosote Cone Gall Midge

Contarinia sp.
Clasping Leaf Gall Midge
Populus sp. (poplars; cottonwoods)

Pemphigus populivenae
Cottonwood Leaf Gall Aphid

Pemphigus sp.

Rosa sp. (roses)

Diplolepis californica
Leafy Bract Gall Wasp

Diplolepis nebulosa


Diplolepis polita
Spiny Leaf Gall Wasp

Diplolepis rosae
Pincushion Gall Wasp

Diplolepis rosaefolii
Rose Blister Gall Wasp
Salix sp. (willows)

Iteomyia sp.
Willow Tooth Gall Midge

Iteomyia sp.
Willow Tube Gall Midge

Pontania sp.
Willow Gall Sawfly

Rabdophaga rigidae
Willow Beaked-gall Midge

Rabdophaga salicisbrassicoides
Willow Rosette Gall Midge
Salvia mellifera (sage)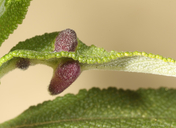 Rhopalomyia audibertiae
Sage Leaf Gall Midge
For more information about California galls, see the Field Guide to Plant Galls of California and Other Western States by Ronald Russo.